​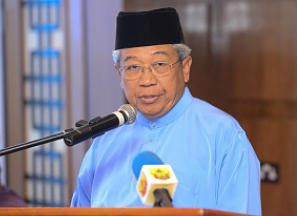 The government of His Majesty the Sultan and Yang Di-Pertuan of Brunei Darussalam like to see the development of Public Relation and Media in the country to be on the respectable path and fully responsible by observing the Bruneian value under the Malay Islamic Monarchy Concept, MIB.
The matter was raised by the Deputy Minister at the Prime Minister's Office, Dato Paduka Awang Haji Abdul Wahab bin Juned during a gathering of Public Relations and the media yesterday morning. The function was held at the Emperor's Court, Manggis Mall.
Dato Paduka Awang Haji Abdul Wahab bin Juned said a number of perspectives on the media, either print or electronic including broadcasting touch on Freedom of Statement which is linked to the media as a fundamental right. According to Dato Paduka, even though Freedom of Statement is a fundamental right in the freedom of media but it is not the absolute right. This status exist because the human life has other noble objectives and not purely on the freedom of statement. Among the noble objectives in nationhood are achieving prosperity together, peace, unity, security and justice.
The deputy minister added that in media, we are not purely determined by commercial interest. Public interest and prosperity is one of the objectives of the government and for that it is the responsibility of the government to ensure that the media is responsible, professional, upholding its ethic, supporter of 'good governance', fair and always aware on the security, prosperity and solidarity of the nation. Although basically the media prioritise honesty, objectivity, fairness and correct information, the important of balance reporting or statement must be maintained. Every rights such as freedom of statement must follow the context of the nation, its socio-culture and belief.
Although it is a universal in character, there is no universal freedom of statement for all. So does a regulation to secure it. The government is responsible in determining a continuation between freedom of statement and responsible for public interest. If we are diverting from this continuation principle, the misuse could easily occurred that lead to irresponsible acts which tends to be rude and an insult. If this become a culture it will lead to widespread instigation, disunity, unrest, defamations, dishonesty, disrespectful, treasons and liar.
The function continue with the presentation of gifts of appreciation to the representatives of the media. Also present was the Permanent Secretary for Media and Cabinet at the Prime Minister Office, Haji Mohammad Rozan bin Dato Paduka Haji Mohammad Yunos, Deputy Permanent Secretary for Media and Cabinet at the Prime Minister Office, Awang Haji Idris bin Haji Mohammad Ali and Director of Radio Televisyen Brunei, Awang Haji Muhammad Suffian bin Haji Bungsu.
News courtesy of Radio Television Brunei
Photo courtesy of InfoFoto